Hey there! So you want to get your Peakflo accounts and workflows up and running so you can start getting paid fast? You've come to the right place! We'll show you how to:
Setup Account Log-in Details

Connect Your Accounting Sofware or Upload Your Existing Invoice

Create Workflow

Manage Internal Users
---
Logging In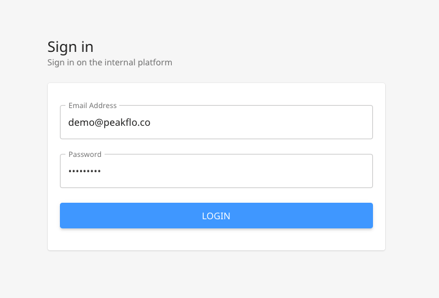 You should have received your login credentials already, so go ahead and input them on the portal's home screen. If you have trouble logging in, contact support@peakflo.co
---
Getting Your Data on the Platform
Did you send over your data in advance? Great! It should already be there waiting for you. However, if you haven't yet, setting things up is simple.
Step 1: Go to settings
On the left side of the screen, you should see a menu with several options. Click 'Settings' at the bottom.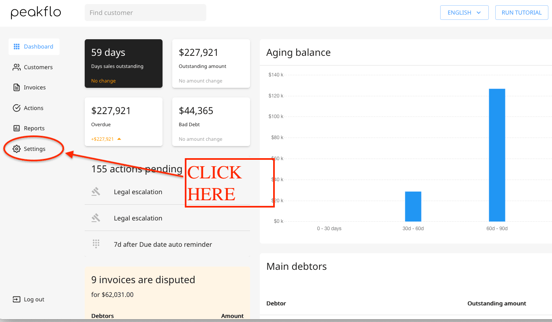 Step 2: Select your currency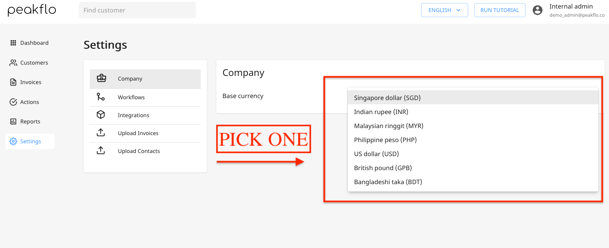 Step 3a (Optional): Connect Quickbooks Account
If you don't have Quickbooks, sit tight: we'll tell you what to do shortly.
Under the settings menu option, you should see a tab called 'Integrations.' Click it.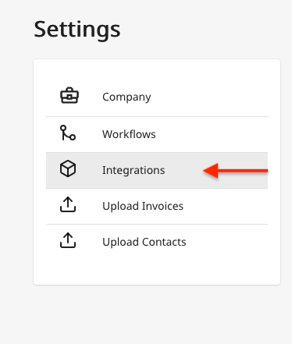 You should then see a screen with 'Accounting Software' and a button labeled 'Connect' to the right. Click connect and input your Quickbooks log in info to connect the account. You're all set!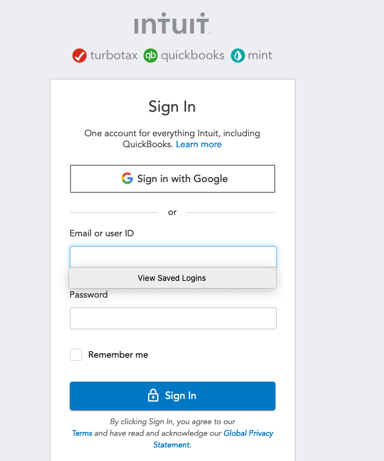 Need to connect to another system?
Netsuite Here's How.

Chargebee
Step 3b: Upload your customers, and invoices manually
To manually upload your invoices, go to 'Upload Invoices.' This will give you the option to 'Upload Invoice File' and prompt you to select a file from your personal device. NOTE: Make sure your file is in XLSX or CSV format — Learn more here.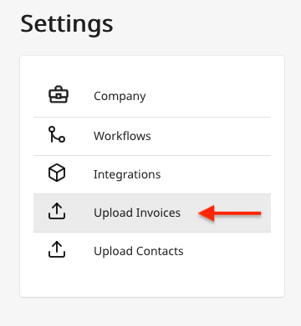 Step 4: Upload your contacts
To manually upload your contacts, go to 'Upload Contacts.' This will give you the option to 'Upload Contacts' and prompt you to select a file from your personal device.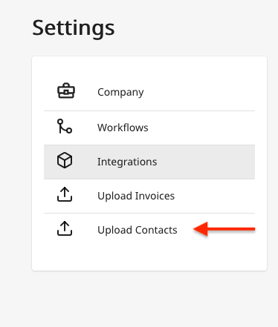 ---
Creating Workflows
This is the meat and potatoes of the platform (unless you're a vegetarian, then this is the eggplant). Workflows are how Peakflo helps you manage your outstanding invoices and communicate with relevant stakeholders.
Before we get into the mechanics, let's review some definitions to make this process easier.
Actions:

You set up a workflow because you want to

DO

something. You want to either send a reminder that a payment is due or notify someone in your company about an urgent need. Actions govern what happens to whom and how quickly. Actions can be manual or automated.

Action Types
1. Automated Emails, issuing Letters of Demand, and SMS are actions that happen
immediately in the background and are delivered directly to the contact without account
manager involvement
2. Manual actions are those that require someone inside your company to do something
i.e. making a phone call or visiting a customer's office.
Triggers:

These are the parameters that initiate the action you want.

Owners: These are the people in your company who are responsible for communicating with the customers—often these are the account managers
Recipients: These are the people who are going to receive the in-platform action, email, or whatsapp message you're creating the workflow for.


Ok, now let's jump into setting things up!
Step 1: Organize your contacts
Workflows work by selecting a recipient category and then reminding them to do something. This is why organizing your contacts is so important—you wouldn't want to send a payment reminder to someone who has already paid, right?
Recipients can be stakeholders inside your company and outside the company. The current recipient lists include:
Main Customer Contacts
Other Customer Contacts
All Customer Contacts
Internal Stakeholders


Need to manage contact? Here's How
Step 2: Go to settings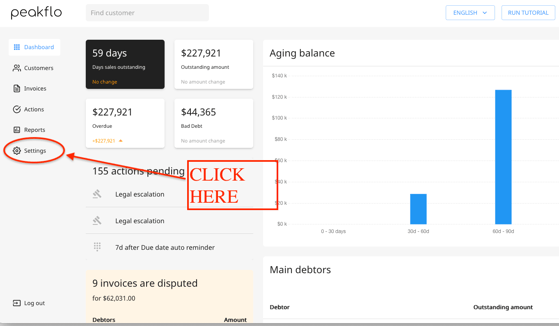 Step 3: Click 'Workflows'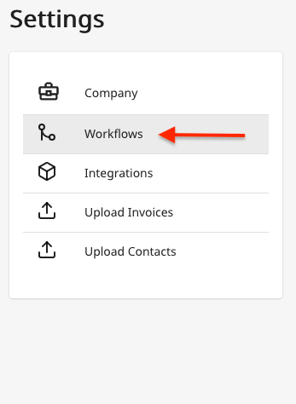 Step 4: Click 'Add Workflow'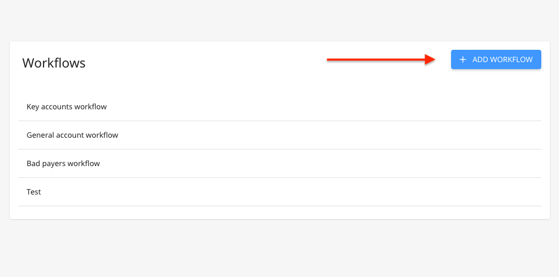 Step 5: Fill in the relevant fields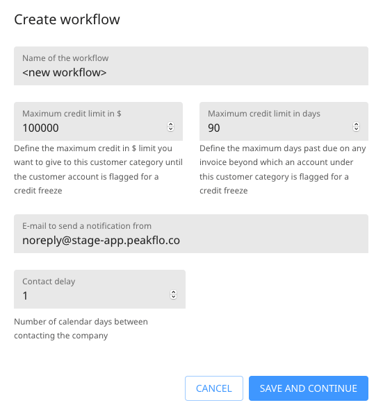 Tip: Name the workflow so that it's descriptive and distinguishable from the other workflows.
Step 6: Select the workflow label you created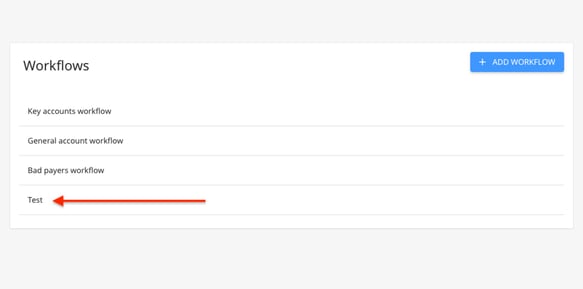 Step 7: Customize and activate workflow
When you click the workflow you've just created, it will take you to this page: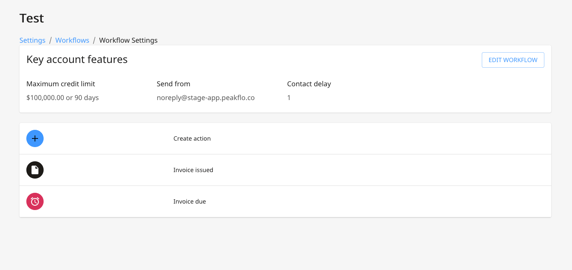 This is where you can customize the workflow by setting the triggers, actions, and recipients for your communication.
Click 'Create Action'

Name the action you want to take
Set the conditions that trigger the action i.e. three days after the due date XYZ action should happen
Next, choose the action that you want to happen
Now you've decided the actions and the triggers, now you need to decide who needs to be involved in this communication both passively and actively. That got confusing. Let's make it simple and create an automated email. Let's take a look: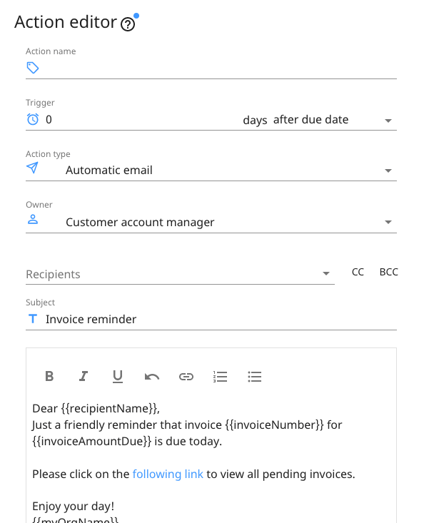 Looks just like an email, right? So treat it like one!
5. Select the owner of these accounts (account manager)
6. Select the main recipient and any stakeholders that need to be Cc'd
7. Create the subject of the email
8. Edit template text—the email will automatically fill in the greeting with the relevant contact
name. Want to customize the automated variables you use in the template? Learn how!
The process is similar for different action types, but tailored to the form. What does this mean? If you select 'Call' as an action, then the template will help you create a call script for whomever's going to make the call. If you select 'Whatsapp,' the template will suggest a Whatsapp message style.
Once you're finished, click 'update action' and you're all set!
Let's say you've created a workflow for one set of customers that works super well. You can copy that workflow by hovering over it and clicking the copy icon.

Managing Peakflo Users
This portal is awesome because it keeps everyone on the same page. One way to create control and transparency is to create multiple users in the platform.
Creating Users
To create a new user, go to settings and select 'Users'. You'll see the screen below—click 'Add User'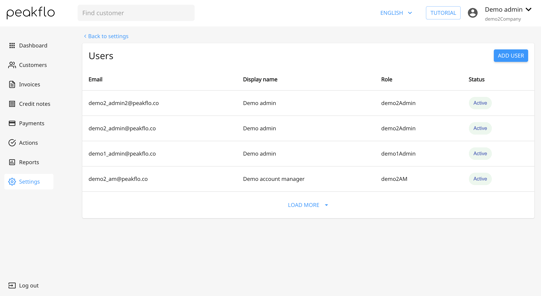 Simply enter the name, email, and roles! Easy 😎.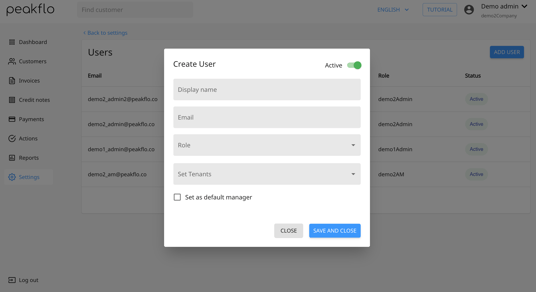 Removing and Modifying Users
To modify a user, click their name and change the info you want to be changed. Save and close!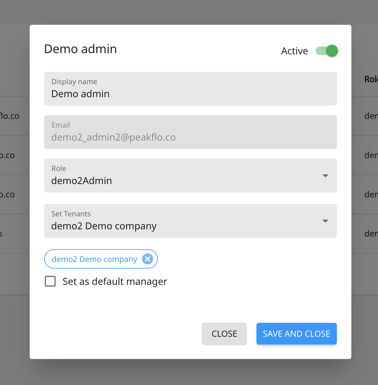 To remove a user, slide the Active button to inactive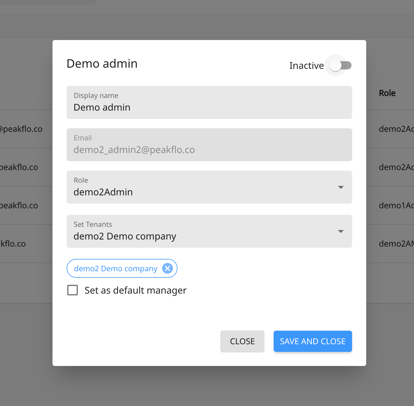 You can keep track of all user progress in the Team Activity Report under the report tab