Did you get new customers and want to assign them to an account manager? New to update existing customers info? Here's how you do it.
Assigning account managers in bulk
To assign account managers in one fell swoop, it's easy! First, go to the Settings Tab and select Mass Account Manager Assign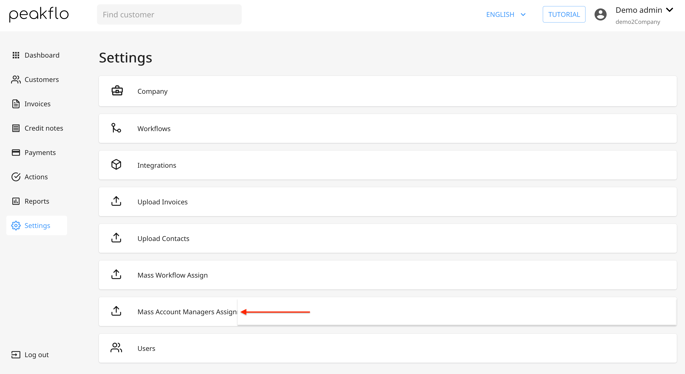 Next, click the upload button to assign account managers to the desired companies. And that's it!

You will need to prepare an excel sheet with the emails of your Account Managers and the customer IDs:
email: Please specify an email of an existing Peakflo user which will be an account manager.
customer ID: customer ID used in your accounting system. If your accounting system doesn't allow to export of customer ids, we can do this export for you after the sync is finished.
* To find the customer ID, check out this link.
The template file can be found here:
Assigning new customers an account manager and workflow (only if you are not using an accounting system)
So you've got a new customer and you need to assign them a workflow and an account manager in Peakflo? We've got you covered!
On the 'Customers' page, you'll see a blue button that says 'Create Customer'. Here, you'll be able to choose which account manager will be responsible for the customer and which workflow they should be added to.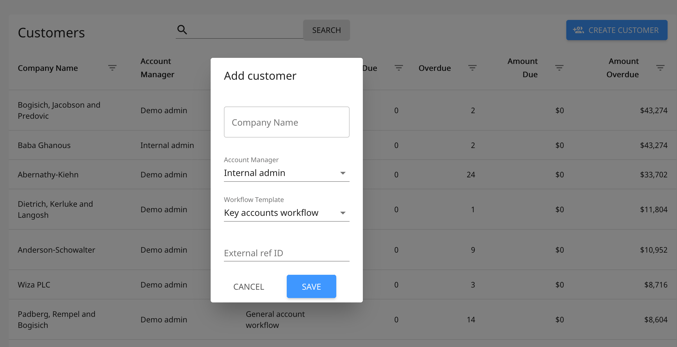 Editing existing customers
To make changes to existing customers, simply select the customer, click the 'Details' tab, and modify the sections you wish to change.

To find the customer ID, check out this link.
Input your customer ID into the sheet and upload!