As an accountant, using Peakflo can help automate a lot of your work, therefore increasing your productivity and letting you focus on tasks that really matter!
We will walk you through the various sections in the following sequence:
---
Customers
We have the Customers section in the Receivables module.
Customer details have a 2-way sync between Peakflo and your accounting system. All customers created in your accounting system will be present in your Peakflo account and vice versa. The synchronization happens every 5 mins.
Customers can also be mass uploaded into Peakflo. Read how to mass upload customer data to understand the process.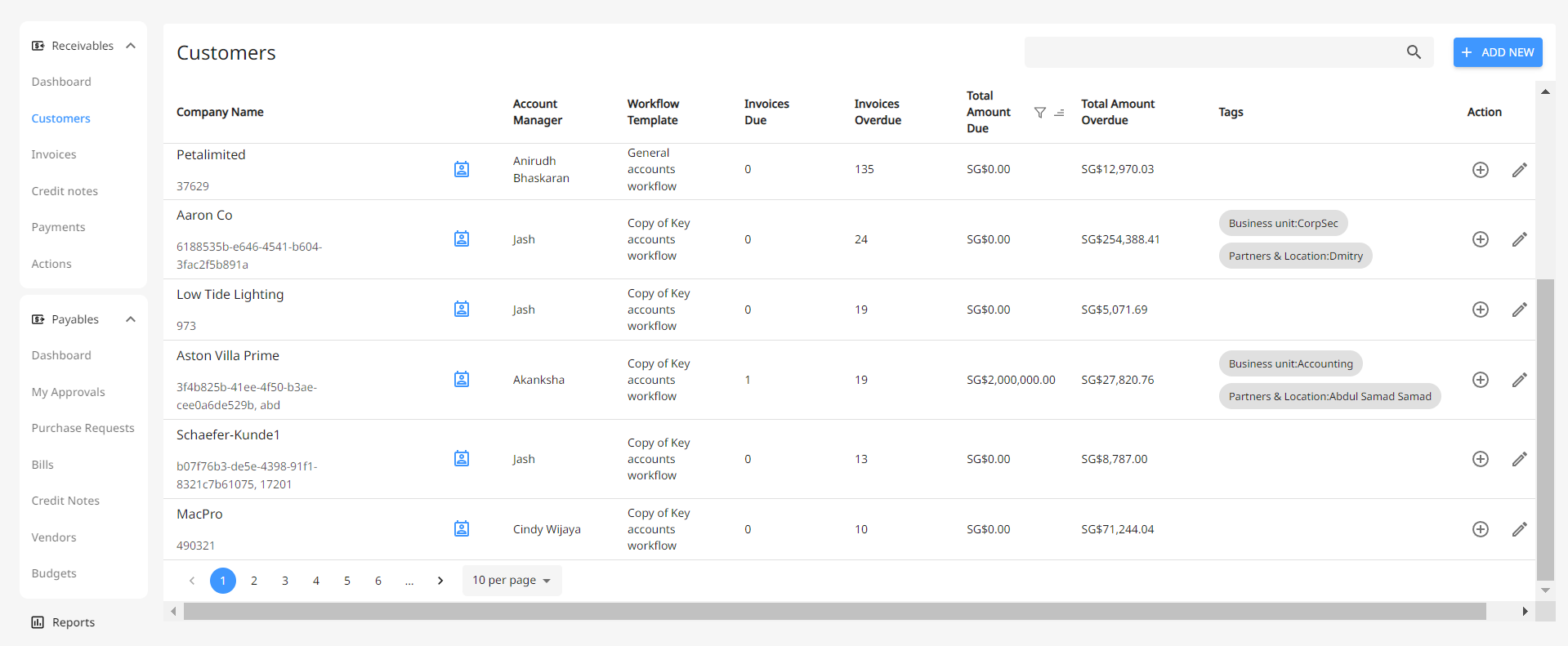 Customers can also be entered one by one from the Peakflo UI by clicking on the Add New button at the top right of the screen.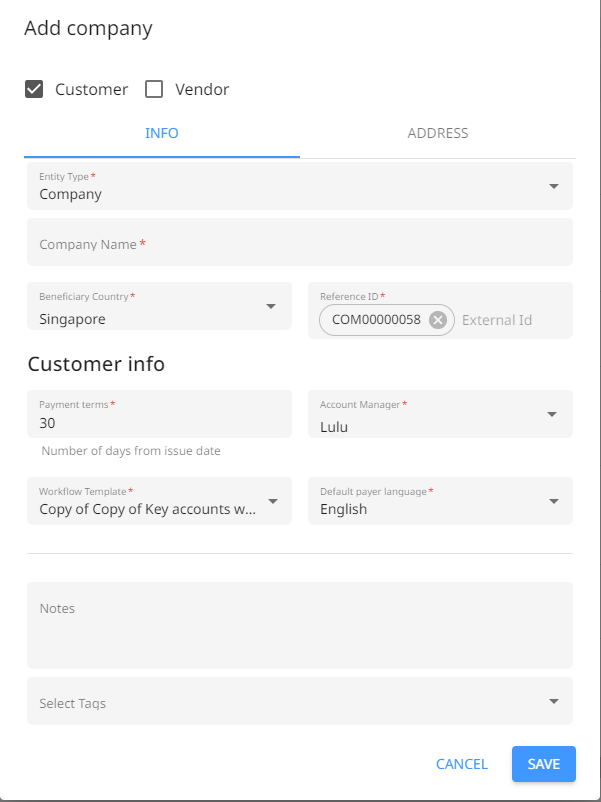 ---
Invoices
By creating invoices in Peakflo, you can send payment reminders to customers and get paid faster. Peakflo allows you to input invoices in 3 ways-
---
Customer Portal
The customer portal is the one-stop-shop for customers to:
View your credit notes

View outstanding balances and their aging
---
Payments
Payments are either added automatically or manually in Peakflo:
Automatically, if the payment is made by the customer through the customer portal. Payment entry will automatically be added to the Payments tab.
Manually, if the payment is made by the customer outside of Peakflo. Learn more how to add payments in Peakflo.
You can also export payments and import the file. You don't even have to reformat the sheet as we've formatted it so you can import the file straight to your accounting software!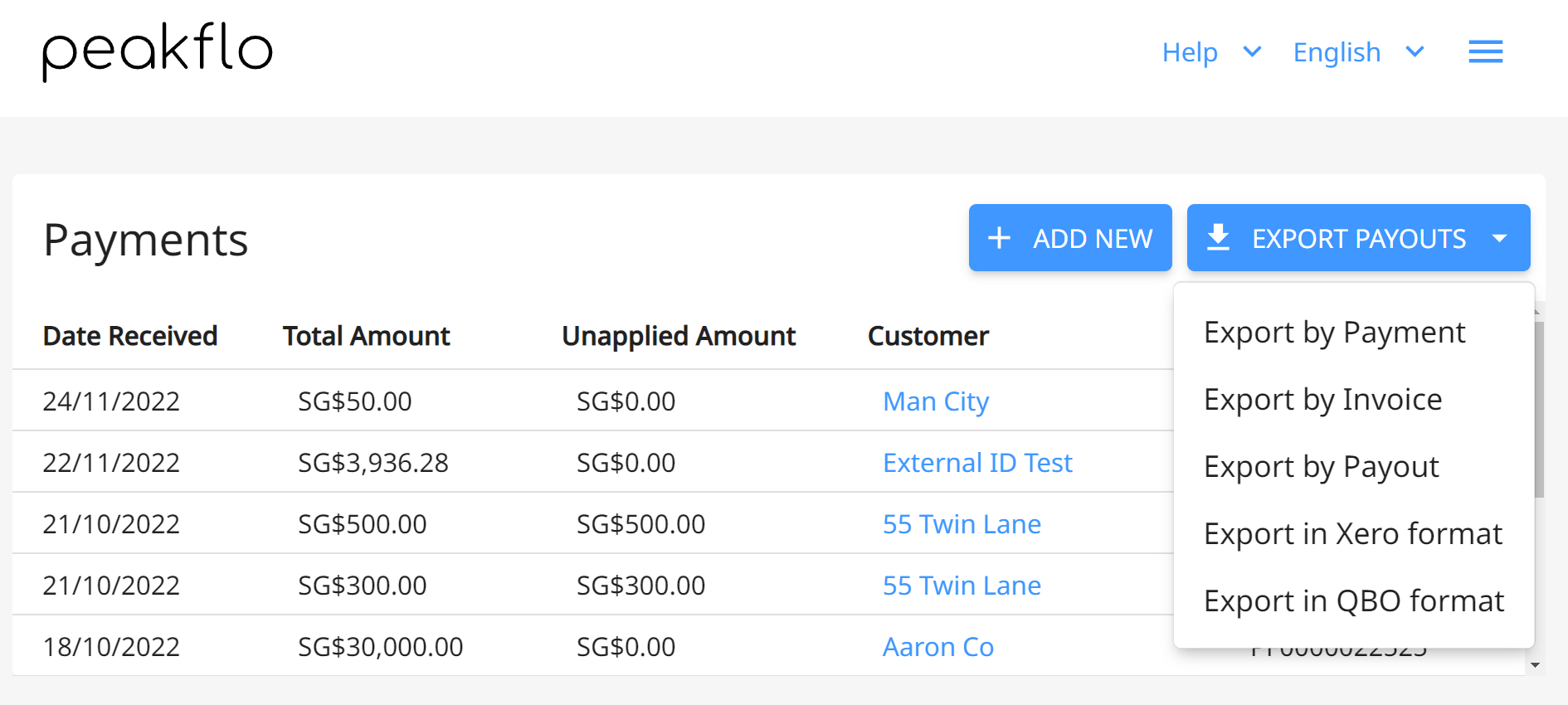 ---
Reports & Dashboard
Keeping track of the reports will give you more insights into your collection performance and make strategic decisions for improvements. Currently, you get the following reports & dashboard:
DSO report: The average number of days your firm takes to collect money against invoices from customers after an invoice is raised. You can check your DSO health in your Dashboard, where you will see the numbers for the last 6 months and our goal is to reduce the metrics.

Aging Balance report: The total that is aging in real-time. This is also visible in the Dashboard, for a more detailed report you can go to the Reports section.
Invoice Status Tracking report: The report where you can check the important details of your invoices in a listed view. Read more about how to track invoice status.
Customer Status Tracking report: The report where you can track the following for every customer:

Payment behavior: Track how timely or late a customer makes payments. There are 3 classifications:

Early payer (pays before due date)
Timely payer (pays on due date)
Late payer (pays after due date)

Customer-level DSO: Overall DSO is never good enough. Every customer has their own DSO and we provide this information to optimize your workflows for every customer's DSO.
Promise-to-pay amount: Say your customer has defaulted on their due date & they cannot pay the entire amount. You can check with them how much of the due amount they can pay and set this in the promise-to-pay amount.



Credit Control report:

Understand what a credit limit is & how to set it in Peakflo. Now use this report to track the credit given, remaining, and status in this report!


Team Activity report:

The purpose of this report is to track:

The collections made by your team's Peakflo users can be tracked here for the period you configure (as shown in the screenshot)
You can monitor action numbers for collections. You can track:

Action completed
Action pending
Action skipped
The last action date for the selected period.



Cash flow analytics:
There are two reports here:

Cash flow analytics: The predicted collection for the coming months for all outstanding invoices.

Invoice collection cohort: This report is to help you gauge collection efficiency company-wide.


Reminder delivery tracking report: As the name suggests, this report helps you track the delivery of your payment reminders.