Approval policies help companies streamline the approval process for bills,. Follow the below steps to set up a payment approval process for your team.
Before setting up an Approval policy, ensure that you've added the relevant team members who will be a part of the workflow. Watch this video to know how to add team members to your account.
After you've added the team members, follow the below steps.
1. In your dashboard, click 'Settings' from the left navigation menu and go to 'Approval policies'.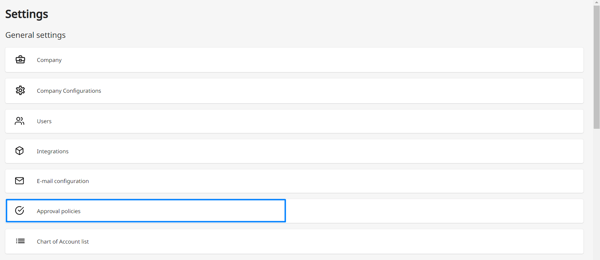 2. Click on 'Add New'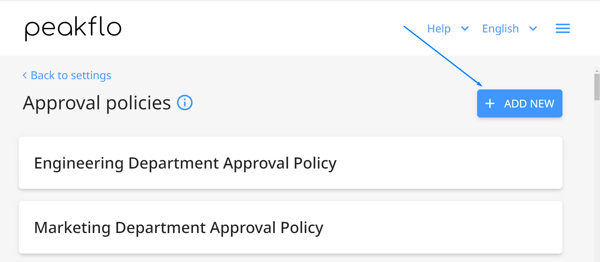 3. The approval policy box will appear. Add the name of the policy and simply tick any of the boxes to configure whether you want to apply the policy for Purchase Requests, Purchase Quotes, Purchase Orders, bills, transactions, AR credit notes, or all of them!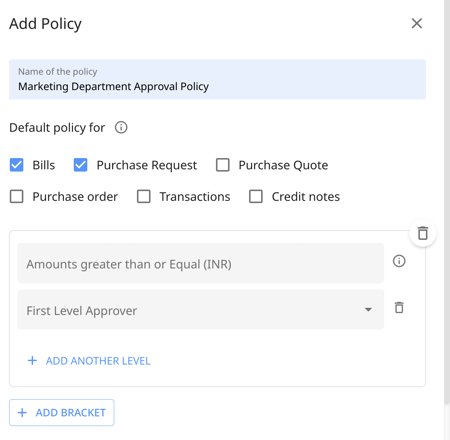 3. Then, you can set the amounts, assign multi-level approvers in your organization, or add more brackets to extend your policy.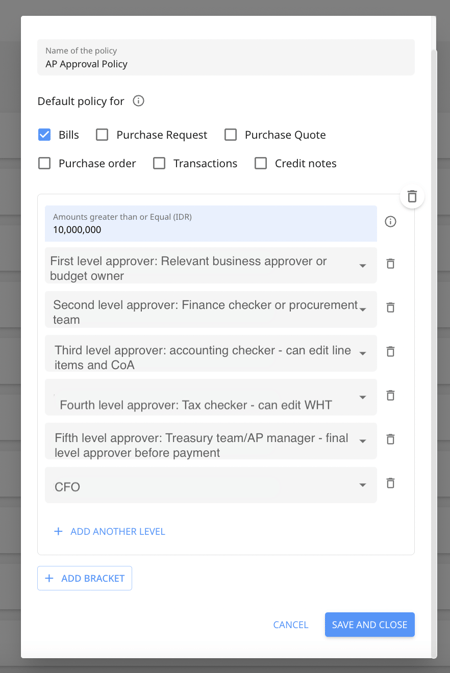 What are approval levels?
Approval levels are where you can add multiple layers of approval for the bill payment. For example, you can add team member 'A' as the first-level approver. Once approved by team member 'A', it will pass on to the second level approver, team member 'B'. This helps refine the review process of all the bills before pushing them for payments. To cater to the most complex requirements. Peakflo can support up to 10-level approvals
What are approval brackets?
Approval brackets allow you to add more approval layers when more money is involved. For example. You can set an approval bracket of value between $0- $100 for auto-approval, $100-$1000 to a manager, and anything above $1000 to the director. This helps in bringing in the right stakeholders to review and approve high-value bills.
If you want to accommodate approvals for different departments and business units, take advantage of rules for easier management.
4. Once you've filled in all the details and added the team members in different approval levels, click 'Save and close' to set your approval process live.
Configure the types of approval emails users will receive
To avoid any spam and facilitate clearer communications, you can set the types of emails that you'd like Peakflo to send to the internal teams.
As usual, go to ⚙️ Settings and go to Users. Click on the user whose notification settings you'd like to edit.
Click the Notifications page in the user pop-up, and tick any of the boxes regarding which type of approval emails or WhatsApp notifications - or even other kinds of notifications - for the users to receive.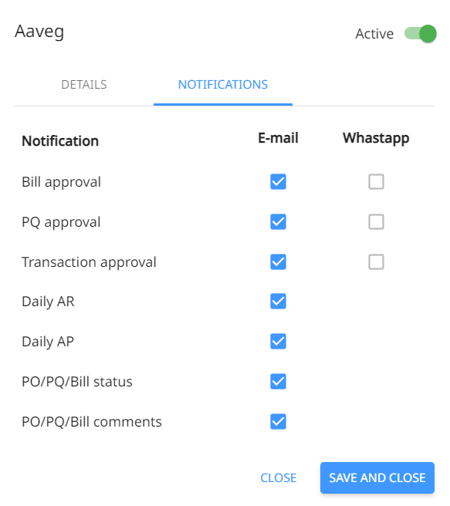 ---
FAQ
What if I approve a bill that is in a different currency from the currency in the assigned approval policy?
Not a problem! You'll still be able to approve the bill regardless of the currency difference. Peakflo will automatically convert the currency for you and check if it goes within the budget. If there's an error with processing approvals, it might mean the budget limit might be exceeded.