Payment approval workflows help companies streamline payment requests before the bills are processed. Follow the below steps to set up a payment approval process for your team.
Before setting up an Approval workflow, ensure that you've added the relevant team members who will be a part of the workflows. Watch this video to know how to add team members to your account.
After you've added the team members, follow the below steps.
1. In your dashboard, click 'Settings' from the left navigation menu and go to 'Approval Workflows'. On the Approval workflows page, click 'Add New'.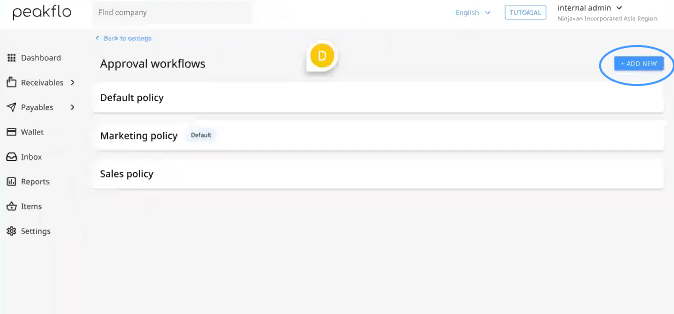 2. After clicking 'Add New'.The approval workflow box appears to set up multiple approval levels and brackets.
What are approval levels?
Approval levels are where you can add multiple layers of approval for the bill payment. For example, you can add team member 'A' as the first level approver. Once approved by team member 'A', it will pass on to the second level approver, team member 'B'. This helps refine the review process of all the bills before pushing them for payments.
What are approval brackets?
Approval brackets allow you to add more approval layers when more money is involved. For example. You can set an approval bracket of value between $0- $100 for auto approval, $100-$1000 to a manager and anything above $1000 to the director. This helps in bringing in the right stakeholder to review and approve high-value bills.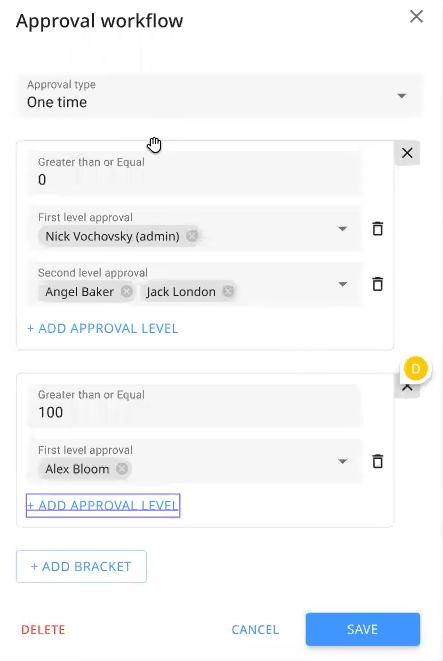 Once you've filled in all the details and added the team members in different approval levels, click 'Save' to set your approval process live.