For creating and approving Goods Receipt Note and Service Receipt Note in Peakflo, all you need to do is to follow the steps below:
1. Go to
"Receipt Notes"
under the
"Payables"
section.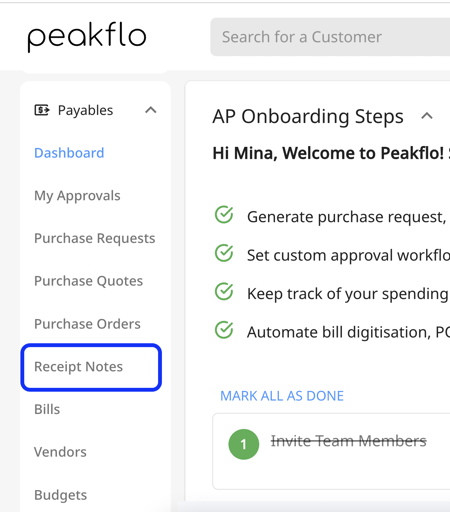 2. Click on
"Add New"
from the right side of the screen.

3. Fill out the information in the RN form and assign an approval policy for the RN.
For setting up approval policies, please check out this article.
* If needed, you can auto-generate the RN number or add a specific RN number
* Delivery date should be equal to or greater than the date on the purchase order.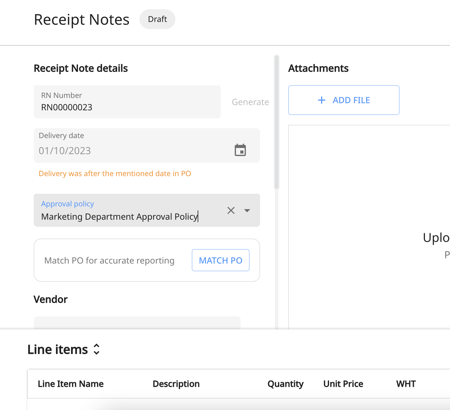 3. In case there's an available purchase order for the RN, please click on "Match PO"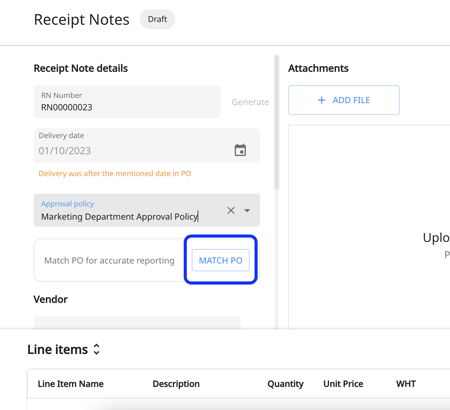 4. Choose the PO for the RN then click on "Proceed".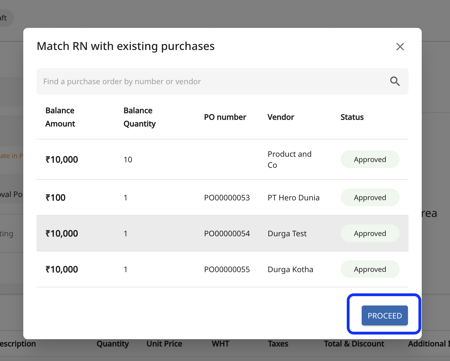 5. Enter the vendor information. In case you want to add a new vendor, please check out this link.
Tick the highlighted box on the RN form in case you wish to send the RN via WhatsApp or email to the vendor after full approval.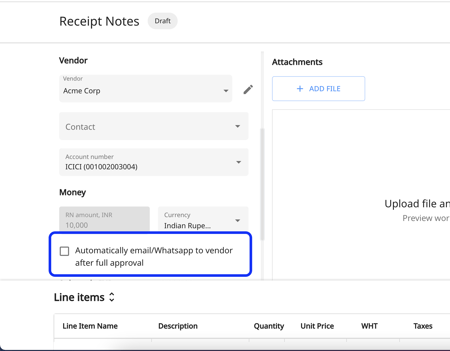 6. You can check, add, edit or delete line items by clicking on "Line Items".
Click on
"Add item"
to add new items in the line item form
Click on the
pencil icon
on the right side of the screen to edit a line item
Click on the
bin icon
on the right side of the screen to remove a line item.

7. Then click on
"Save"
from the top right side of the RN form to save your changes.
8. In case there are any
"Inconsistent Matching"
in the RN, Peakflo will flag them before saving like the example below: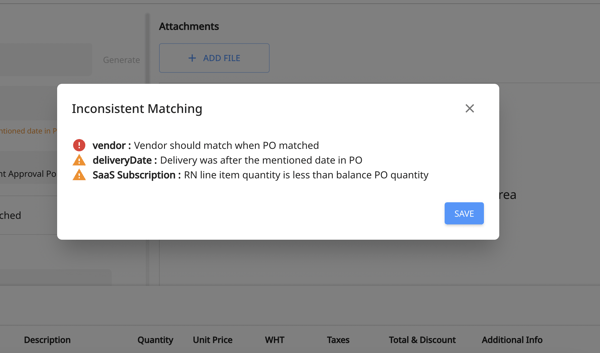 8. To resolve the errors, click on the X button to go back to the form and edit the changes.
If you need to collaborate with teammates to resolve the issue, you can click on "Save" then choose the "Receipt Note" with inconsistent matching from the receipt note list, go to the timeline, click on "Leave comment", tag, and leave a comment for the stakeholders to resolve the mismatch.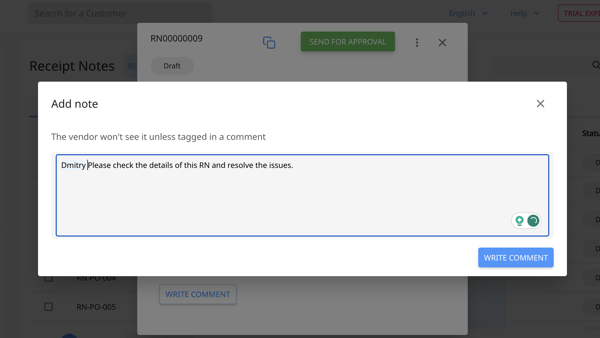 9. You can also perform "Bulk Actions" from the "Receipt Notes" tab. All you need to do is to select and tick specific RNs and click on "Bulk Actions". You can choose to "Approve", "Delete" or "Send for approvals" for the chosen RNs in one go.