Would like to track how much your customer owes you? You can do so with the customer status tracking report!
The customer status tracking report will be a playground for:
Finance teams to get insights on the total amount outstanding and overdue for every customer
Account managers to decide on the actions to collect payments from customers based on their behavior
And more!
Let's learn how to:
---
Access Customer Status Tracking Report
Go to Reports
Click on Customer Status Tracking Report
Once you're in the report section, here's what you can do:



Track the days sales outstanding, total outstanding amount, and total amount overdue for each customer.

NOTE: The days sales outstanding here are based on the lifetime DSO of each customer. This means we calculate the invoices issues, paid, or have a due date from the last 1 year until the recent time.
Get AI predictions on the customers' payment behavior (e.g. late payer, diligent payer, etc) so you can customize your reminder workflow accordingly.
Add new or existing tags to categorize your customers, e.g. "Major client" or to specify where the client is from.

Simply click on the pencil icon to edit the tags. You can even mass-select the tags.

Add a promise to pay amount, customer promise to pay date, and details by clicking on the pencil
Track the course of action you've taken, last AM/Admin Input, and last customer activity to get insights on what works and what doesn't in your collection strategy
Track the aging receivables for each customer
---
Conduct Mass Actions in Customer Status Tracking Report
With mass actions, you can get more things done all at once.
Here's what you can do:
Click on the checkbox at the top to select all customers, or just select a few ones.
Click on bulk actions. Here you can:

Pause/resume reminders in case the customer has paid
Change account owner
Change workflow according to customer's payment behavior
Change tags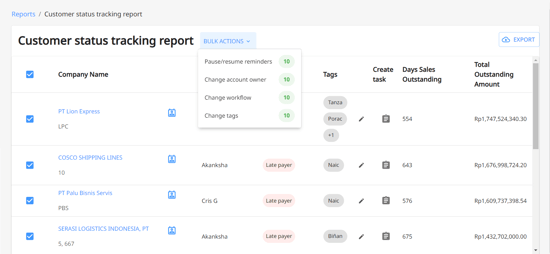 ---
Export Customer Status Tracking Report
If you'd like to generate a list of clients in workflows, export the customer tracking reports!
Simply click on the Export button at the top.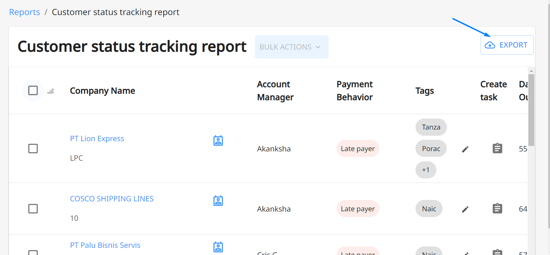 And select whether you'd like to export the report in .xlsx and .csv. Do not forget your email to receive the report in your inbox.