You can upload your customer names to Peakflo manually with the help of a spreadsheet template by following the below steps.

Before getting started, ensure you've invited your team members and assigned them admin or account manager roles.
To add team members
Go to Settings -> User and click Add User that's on the right side of the screen.

2. Next, enter the details of the team member that you want to invite in the Create User box.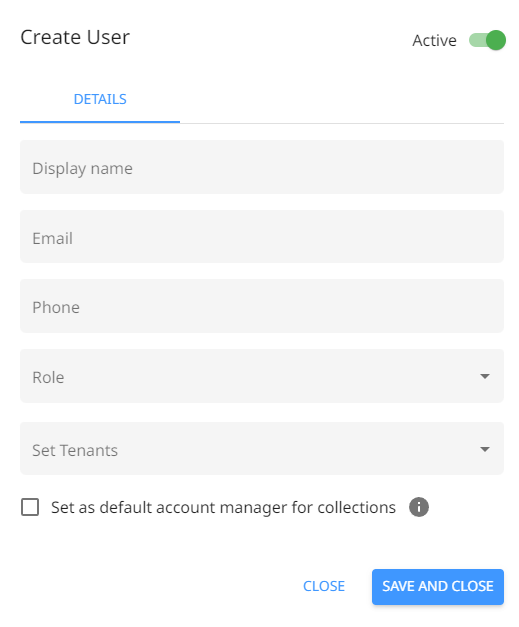 Do not that each role has different permissions and accesses. For instance, account managers will have access only to the customers that are assigned to them. Whereas an administrator can access all customer data. For more information about each role, make sure to click on See role permission here.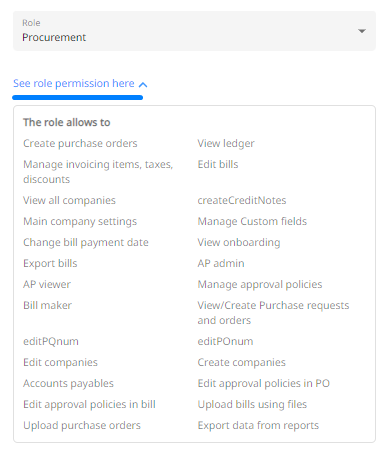 3. If you have multiple companies in your Peakflo access, select the companies this user will have access to from the Set Tenants drop-down list.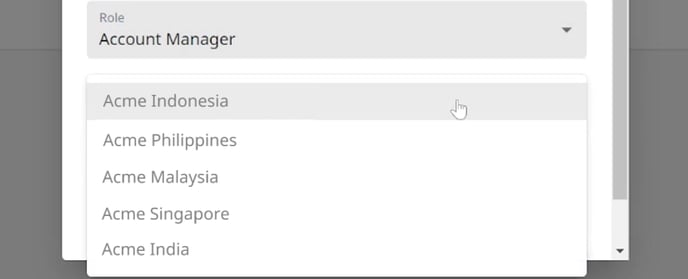 4. Once you've set tenants, you can tick the checkbox if you want this user to be the default account manager for all new customers to be added to your account.

5. You can also make the user, active or inactive by using the toggle switch on the top right corner.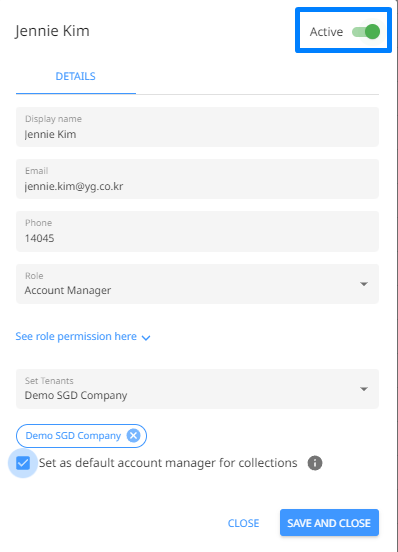 6. Once you've entered the user details, click save and close. The invited user will receive an email invite to join your Peakflo account.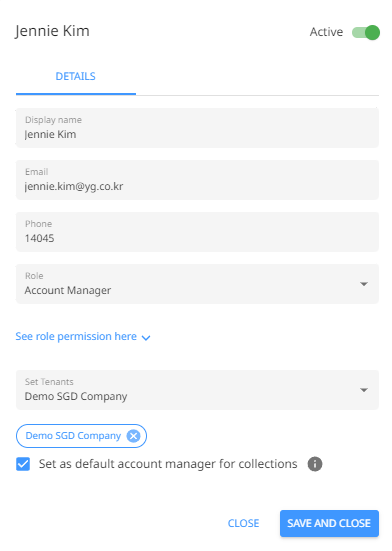 Follow these steps if you have fewer customer names to upload
In case you don't currently use any accounting software and want to add your customers to Peakflo one by one, you can upload their data in a few simple steps. We suggest this option for users who wish to start using Peakflo with fewer customers.
1. Go to Customers under Accounts Receivable and click Add New.
2. In the Add customer box info tab, enter your customer's info details.
Do note that
Since you're the first member of your team to sign up, you will be assigned as the account manager by default to this customer.
Workflows help streamline your entire accounts receivable process by eliminating mundane tasks, triggering personalized, multi-channel reminders, and keeping all stakeholders aligned.
The customer ID can be a number you've already set in place for them in your system, or it can be a new number. The customer ID helps avoid creating duplicate customers' entries with similar names.

To find the Customer ID, check out this link.
3. Once you've entered the customer info details, please move to the address tab, enter their address details, and click save.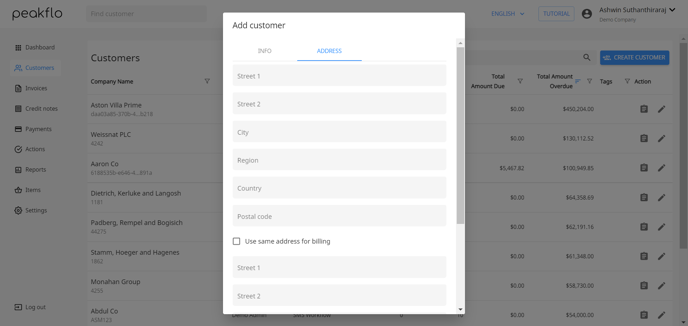 Follow these steps if you have a high volume of customer names to upload
1. Download a copy of the customer upload template in .XLSX or .CSV format and fill in the details required.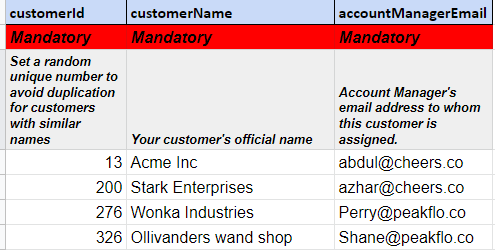 IMPORTANT NOTE:
In case you've added details for the street1 field, all fields including those marked as Not Mandatory will become Mandatory.
2. Once you've entered all the details, delete the mandatory and the field description column. Your spreadsheet should be like this.

3. Next, go to Settings -> Upload Customer Contacts and click Mass Upload Customer Contacts to upload your spreadsheet.
4. After uploading the customer file, if the status is displayed as Completed with errors, click on the line item to view the list of errors.

5. In the Upload details box, you will come across the list of errors and their line numbers for easy identification of the spreadsheet.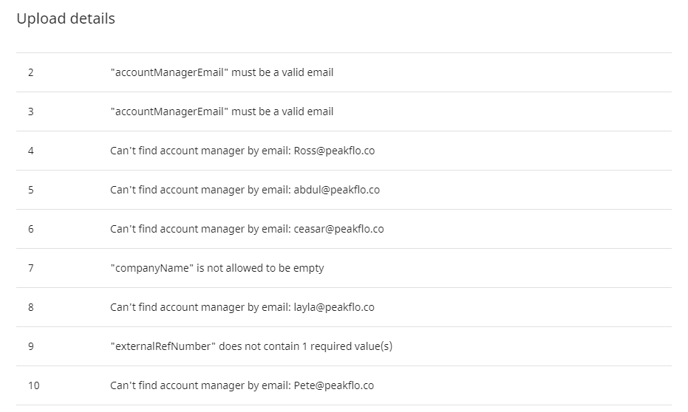 Some of the common errors that you could come across are
If the error message is must be a valid email - Check if the entered email address has any typographical errors. This error can also show up if you didn't delete the mandatory and field description row.
If the error message is Can't find account manager by email - Ensure the account manager's email id is added to your Peakflo account as a user.
If the error message is not allow to be empty or does not contain required value(s) - Check if you've left any fields empty under the mandatory columns
6. Once you've fixed the errors, re-name and re-upload the file to complete a successful customer file upload which will be marked with the status Completed.