Auditors have access to view and export all AP components. They can view and export budgets, bills, POs, credit notes, reports, transactions, and ledgers.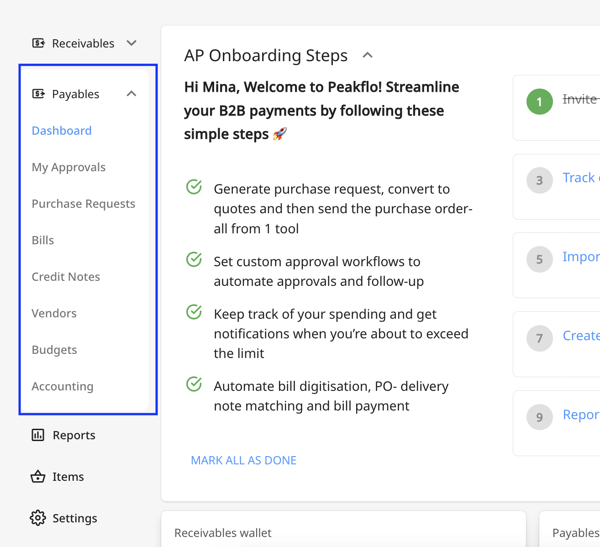 This guide is divided into below sections (recommended to go through it in this flow):
---
Approval Policies
Setting up approval policies is one of the first steps toward setting up your payables account in Peakflo.
To create an approval policy, go to Settings and you'll find the AP approval workflows:



Then click the "Add New" button at the top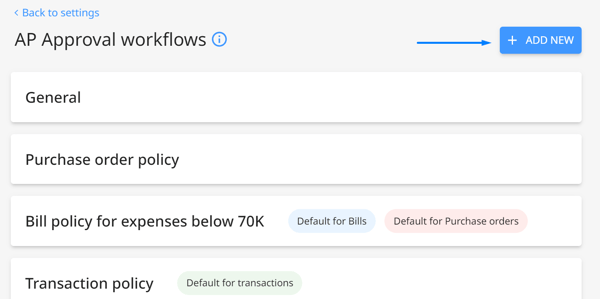 Here's a sample of the approval policy. You can apply the workflow for PQs, bills, and transactions.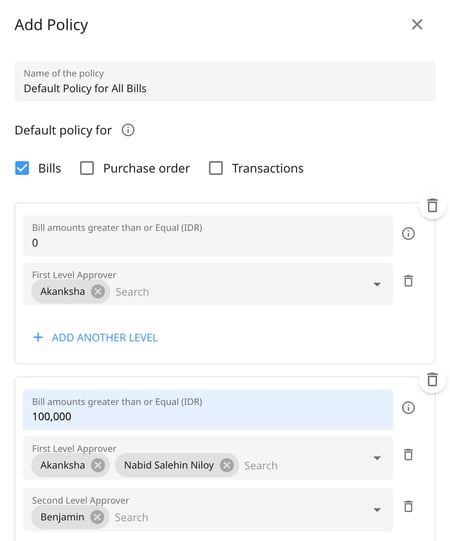 The default approval policy is set on 3 levels: account, budget, and vendor. Admins have access to edit all policies. Below is the priority level when creating a bill/PO:
Default approval policy set for vendor
Default approval policy set for budget
Default approval policy set for account
AP Approval workflows for each department/budget owner can cater to 10 levels of approval, and admins can set them up.

If you're making an approval workflow for invoices with high amounts, you can add brackets for different ranges of amounts and tag multiple levels of approvals.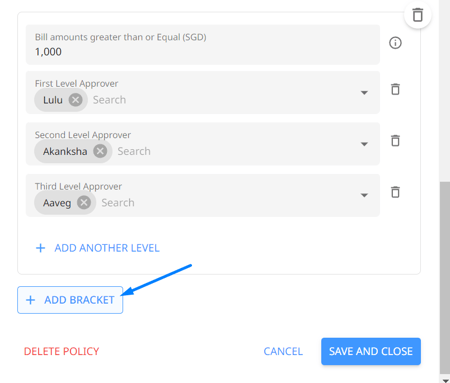 💡TIP:
Make sure there is one AP approval workflow that is set as a default policy for bills, POs, and transactions.
To know more about creating approval policies, please refer to:
How to set up payment approval workflows for bill payments?
How to create and approve purchase quotes?
Here's an example of approval workflows for POs (you may choose to skip the levels irrelevant to your organization):
First level approver: purchase request approver
Second-level approver: relevant business approver, budget owner, or procurement team
Third-level approver: head of procurement
Last level approver: CFO/Finance lead (if over a certain amount threshold)
Here's an example of an approval policy for bills (you may choose to skip the levels irrelevant to your organization):
First-level approver: relevant business approver or budget owner
Second-level approver: finance checkers (procurement team for PO)
Third-level approver: accounting checker to edit line items and the chart of accounts
Fourth-level approver: tax checker to edit the withholding tax
Fifth-level approver: treasury team/AP manager to provide the final approval before the payment
Sixth level approver: CFO (if over a certain amount threshold)
Different levels of approval along with the people responsible for the approval are visible on individual bill/PQ levels. This is what we call the audit trail.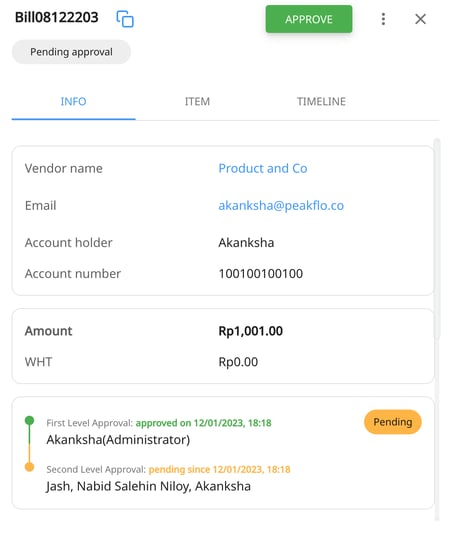 When a bill/PQ/transaction is pending on someone's queue, they get 2 types of notification:
Immediately when the PQ/bill/transaction enters their queue
Start of the day as part of their daily briefing email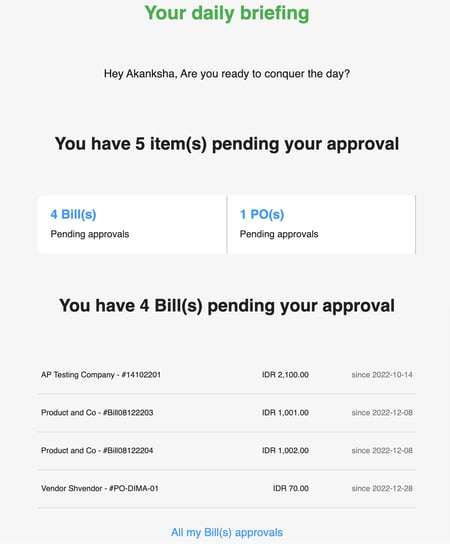 ---
Budgets
Put your budget management in easy mode! You can track the amount of money spent on any project/campaign or by a department in real-time.
To check the details of each budget, click on the budget name. You can see all the bills related to the budget along with the monthly budget reports.
The details and status of all the bills assigned to the budget are also available here.
Auditors have access to view budgets in which they have been added as owners or members. Learn how to create and manage budgets.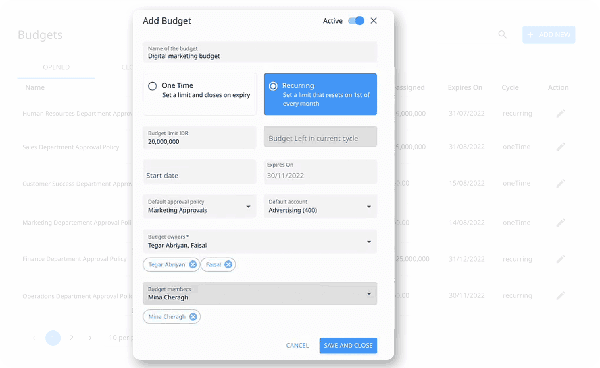 ---
Vendor
Before raising any bills/POs, we need to create vendors.
Auditors have access to view all vendor details such as addresses, bank details, and contacts. Vendor details have a 2-way sync between Peakflo and your accounting system. All vendors created in your accounting system will be present in your Peakflo account and vice versa. The synchronization happens every 5 mins.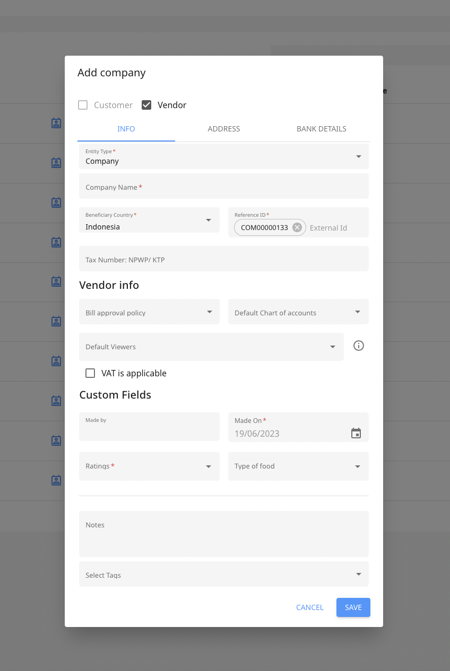 Here are some items to take into reminder when creating vendors:
Custom tags can be created to categorize the vendors. The categorization depends entirely on your company. Popular categories to tag your vendors can be based on spending habits, the line of business, the size of the company, etc. Contact your Peakflo partner to set this up for your company!

Here's an example of tags:

When creating a bill/PQ for a vendor, the default chart of accounts (CoA) will automatically be populated on a line item level. Default CoA should be confirmed with the company's accountant.
When creating a bill/PQ for a vendor, the default approval policy (set on the vendor level) will automatically be populated. The default approval policy should be set by admins according to company policies for procurement and purchase. This can be modified by admins when the bills/POs are in a DRAFT state.
Users added as default viewers will be able to view all bills/POs belonging to that vendor. You can also add multiple users.
The vendor timeline highlights all actions carried out, including the status of the corresponding bills. To access a certain vendor timeline, click on any vendor name.

Auditors can check the entire audit trail of the vendor.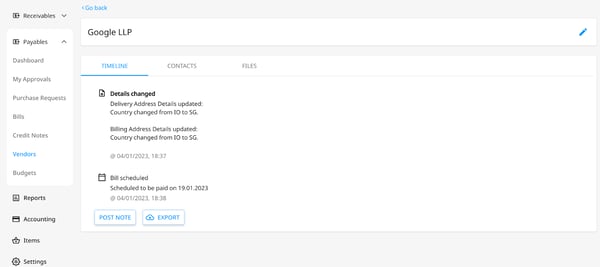 ---
Purchase Quote/Order
Auditors have access to view all PQ/POs. When the PQ is fully approved, the same document transforms into PO.
Learn how to mass upload PQs.
If you want to know more about how to create PQ (in case you're not connected to accounting software) and how to approve them, refer to how to create a purchase quote and send it for approval.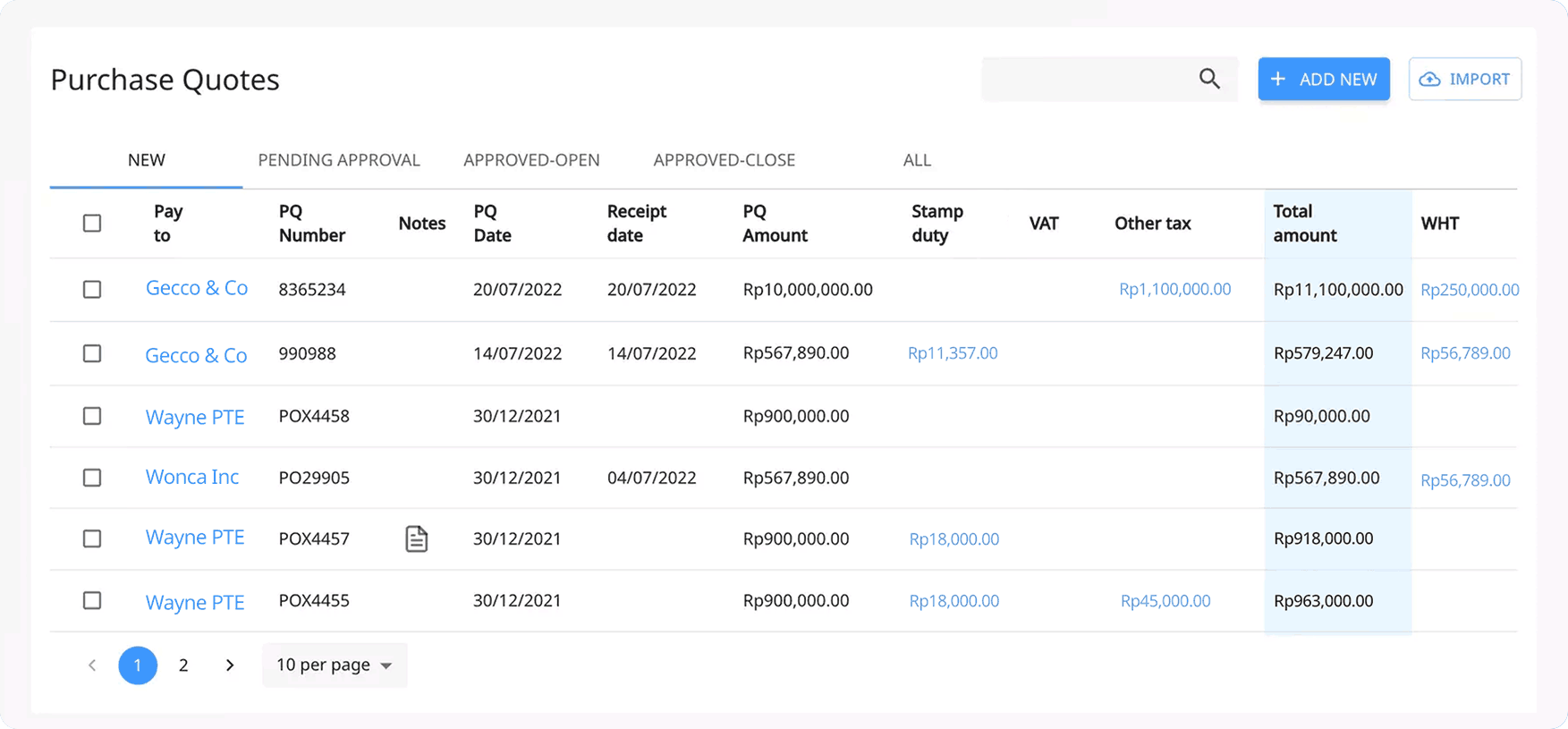 If your company creates digital copies of PQs and needs to add them to Peakflo, we have an OCR engine which is an up-and-coming technology that can automatically scan PO details with a high-level accuracy and saves it into Peakflo without manual data entry. Learn more about how OCR works in Peakflo.
To use the OCR, simply email the PQ to the OCR mailbox. You can find it by clicking on the three dots at the top right.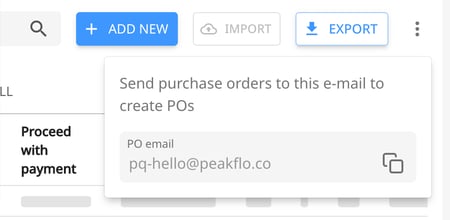 You can also directly send the purchase quotes, once approved, via mail or WhatsApp to the corresponding vendors' contacts. Simply select the contacts to send the PO to along with their corresponding communication channel.
Do not forget to also tick "Automatically send to the vendor after full approval"!
Once a PO gets full approval, it will show up in the Purchase Requests section, under the Approved-open column.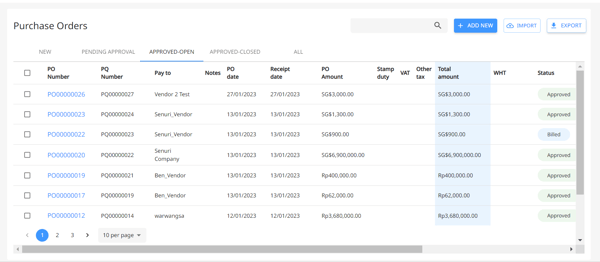 When the PO amount matches with 1 or multiple bills, the PO goes to the Approved-closed state AKA completely billed.

Similar to vendors, Peakflo also tracks any changes to PO/PQ and captures them in the timeline. Simply go to Purchase Requests and click on any POs or PQs you'd like to see. Auditors can view the entire history of the PQ/PO using the timeline.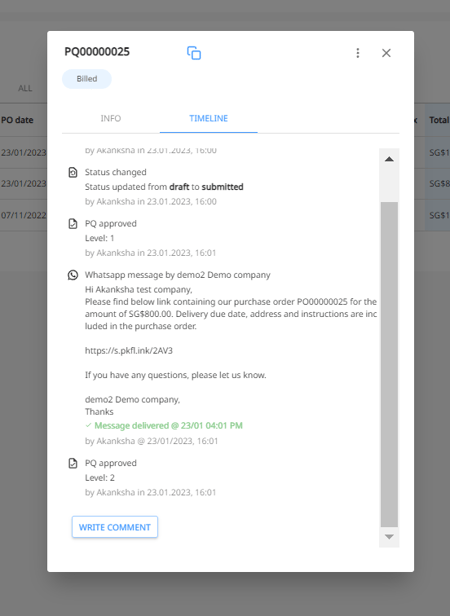 ---
Bills
Auditors have access to view all bills.
To know more about mass upload or manual creation of bills (in case not connected to accounting software), please visit our help portal on how to create and upload bills.
Bills can also be automatically scanned using our OCR system. Vendors or Peakflo users can directly send the bill copy to our OCR mailbox. Peakflo automatically scans bill details with a high-level accuracy and saves them without any manual data entry. Sample mailbox details are mentioned below: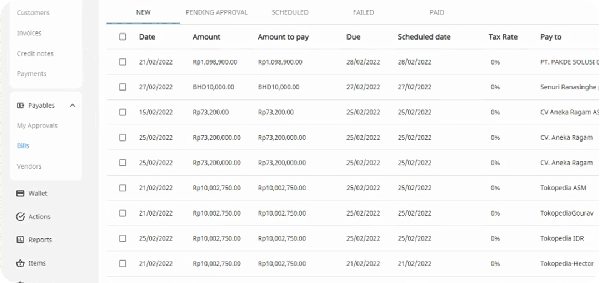 If your Peakflo account is integrated with the accounting system, we will sync all the bills created in Peakflo to your accounting system. The synchronization happens in twice:
When the bill is fully approved
When a bill is paid and the corresponding transaction is fully approved
Similar to the PO timeline, Peakflo also captures bill history in its timeline. Go to the Bills section and click on the bill you'd like to see the detail of.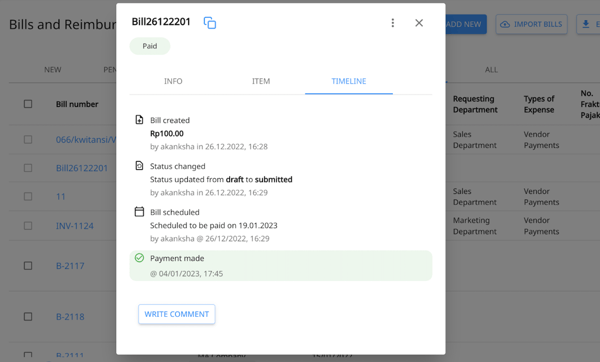 Bills can be matched to POs directly from the UI itself. This will automatically populate the PO line items and vendor details, avoiding any interim human error and skipping the time-consuming task of manual data entry.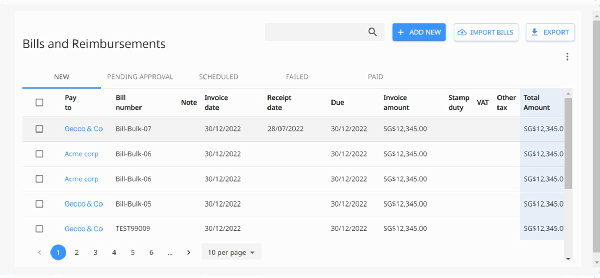 We can even automate payments if you've enabled Peakflo wallet. Once the bill receives full approval, it goes to the scheduled state. On the bill's due date, payment will automatically be paid with the Peakflo wallet.
We keep the finance team and bill creator updated with the details of the payment which can be found in the following email notifications:
When a payment is successful: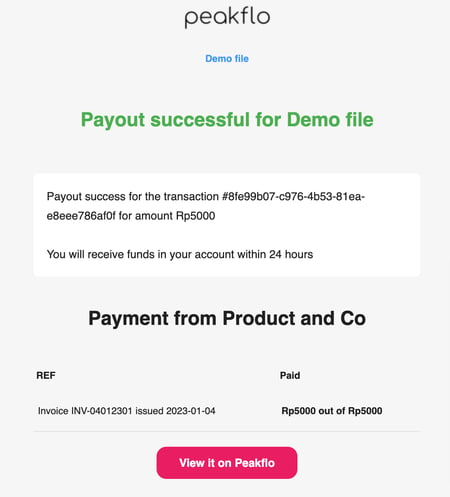 2. When a payment is failed: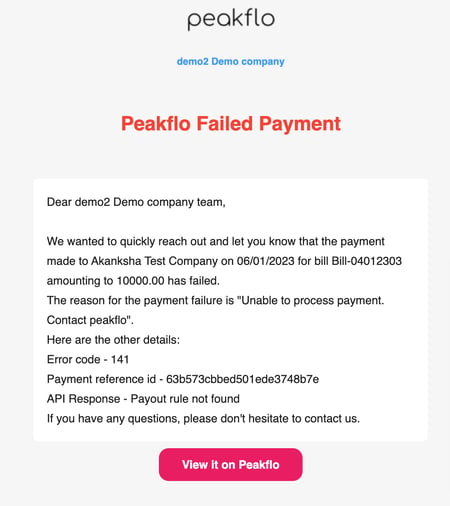 3. When the wallet is low on funds: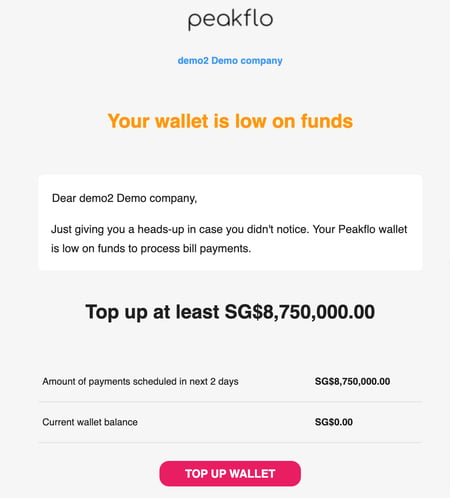 So you don't have to worry about vendor payments, Peakflo's got your back! 💙
Similar to the PO timeline, Peakflo also captures bill history in its timeline.
---
Custom Fields
Custom fields can be used to add any details about the bill or the PQ, such as brand information or the requesting department.

---
My approvals
This is the section where all bills/PQ/transactions pending with the approvers are shown. When approval items come to the user's queue, they can receive notifications by Whatsapp or email. Users can approve, decline, or change the status to draft.

With these approvals, users can add comments and also mention other users to highlight changes or for audit purposes. Mentioning a user will enable view permissions of the bill/PO to that user.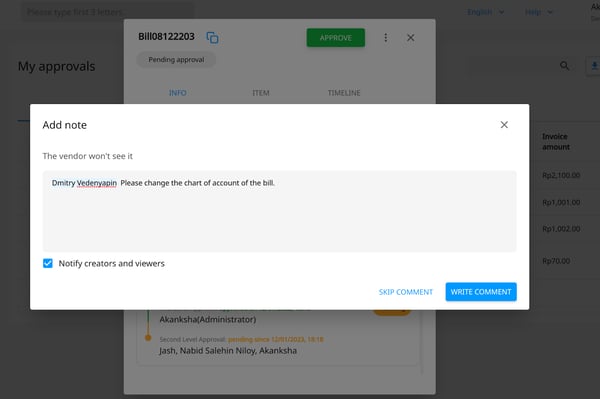 This page is mobile optimized so users can view attachments and approve bills/POs right from their fingertips.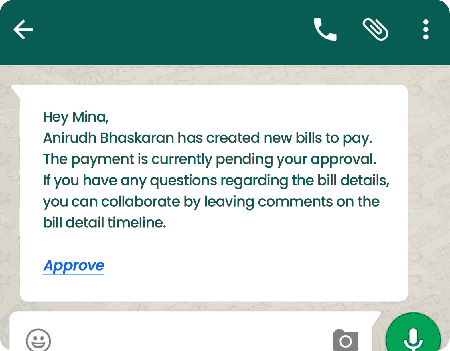 The notification settings can be accessed from Settings. Click on Users and click on a specific user you'd like to see the Notification details of. Admins have access to edit this for any user.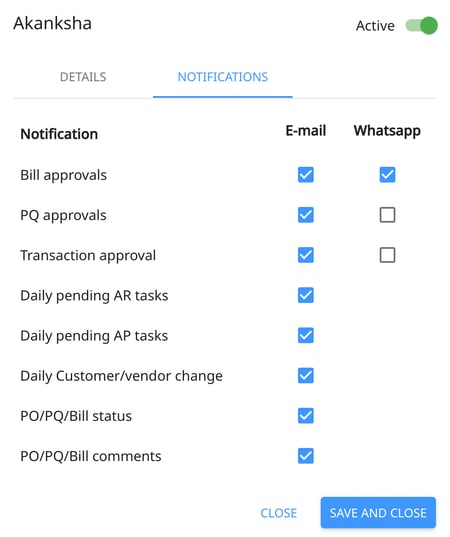 ---
Credit notes
Auditors can view vendor-generated credit notes tagged to the bill so that the correct payable amount is reflected in the system and payment is made accordingly.
Once a vendor is selected while creating credit notes, all the associated bills are fetched and displayed.
If this feature is not available by default, please contact your Peakflo partner. Learn more how to create credit notes and link to bills.
If the Peakflo account is integrated with an accounting system, credit notes created in Peakflo will be synced to your accounting system within minutes!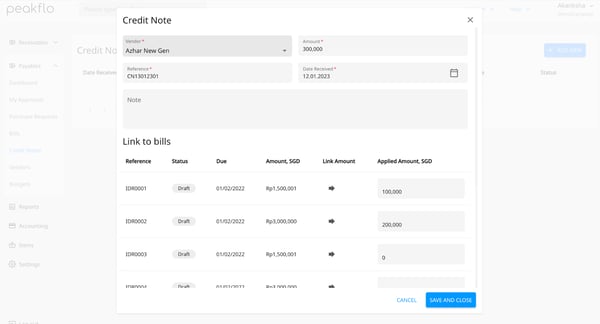 ---
Reports
Following are the reports in the Payables module:
Change log report. This report highlights any changes done to the vendor/bill/PO details. It captures the fields changed along with the owner of the changes. Peakflo also shares an end-of-day email notifying users about the latest 5 changes made. This is to ensure that transparency is maintained along with the full audit log.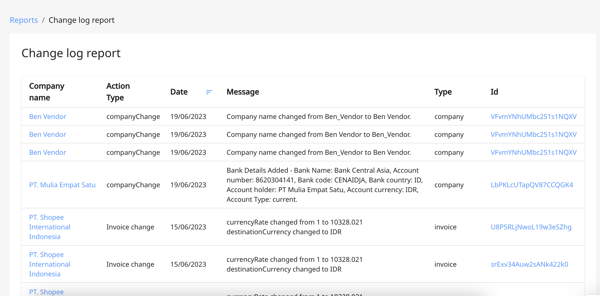 Aging payables report: Admins have access to view and export the aging payables report. An accounts payable aging report is a critical accounting document that summarises the bills and invoices owed by a business, broken down by vendor and due date. Aging involves categorizing your company's unpaid customer invoices and credit memos by date range. The report can be seen in a 15 days or 30 days period past the due date.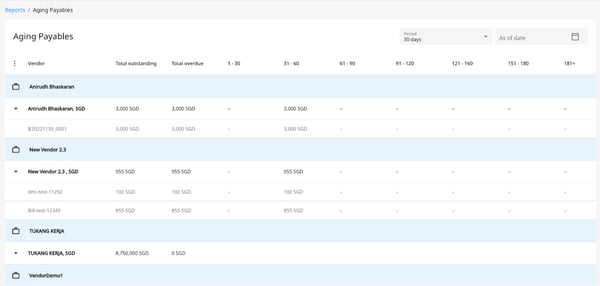 If you have a presence in multiple countries, we will show a summary of pending payables per vendor and per currency.

---
Dashboard
The dashboard shows the following 3 items:
AP pending actions in the Peakflo account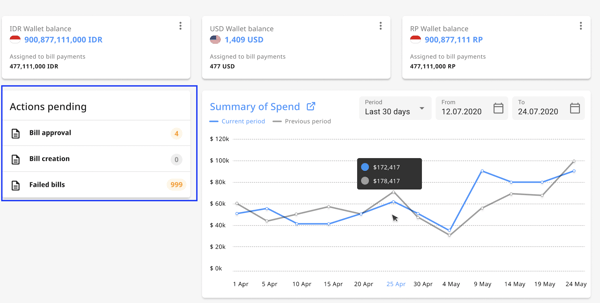 List of AP Wallets with currency and current balance. Admins have access to top-up these wallets.

Summary of spend in the selected period, which also shows the trend of payables in the past.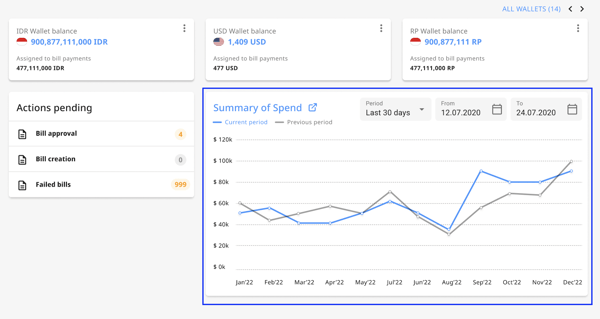 ---
Accounting
This page contains all details associated with transactions and the ledger. All wallet transactions are detailed here: deposit, payout, top-up, payment, and transfer.
Transactions also go through the approval policies tagged to them. Admins can also export transaction and ledger tables. Transactions can be synced to your accounting system if there is an integration.
Transactions should typically be reviewed by the company's accountant before they are approved for synchronization. These transactions are akin to your bank transactions which will be reconciled in your accounting software with the corresponding account transactions, automatically by Peakflo.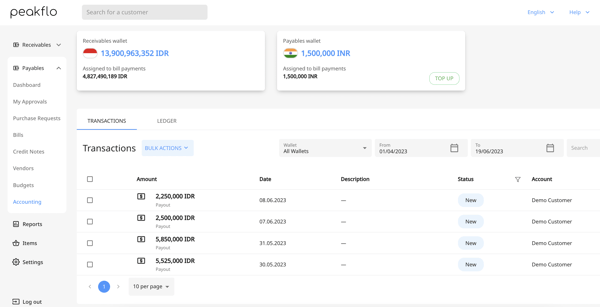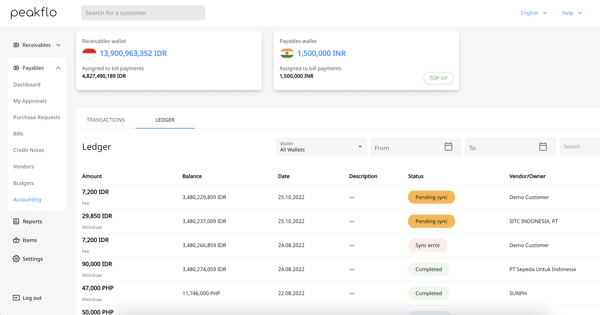 If you have queries about any module, feel free to contact your Peakflo partner or contact us at: support@peakflo.co