Xero
Peakflo connects and syncs with the data in your Xero account in just a few minutes. We securely import the following data from Xero automatically: your company information, customers, invoices, credit notes, payments, overpayments, chart of accounts, currencies, taxes.

Your Peakflo account syncs with Xero automatically: every 15 minutes (for payments, credit notes) and in real-time (for customers and invoices) before any payment reminder is sent to ensure you're always working with the most up-to-date information.

Keep both systems up to date, automatically: the two-way integration between Xero and Peakflo means payments made via Peakflo are reflected in your Xero account, too.

You can also map which accounts in Xero should be debited/credited when you receive invoice payments via Peakflo. You can also easily track all payments collected and processing fees inside Xero.
Data Flow Diagram
Data syncs from Peakflo to Xero is as follows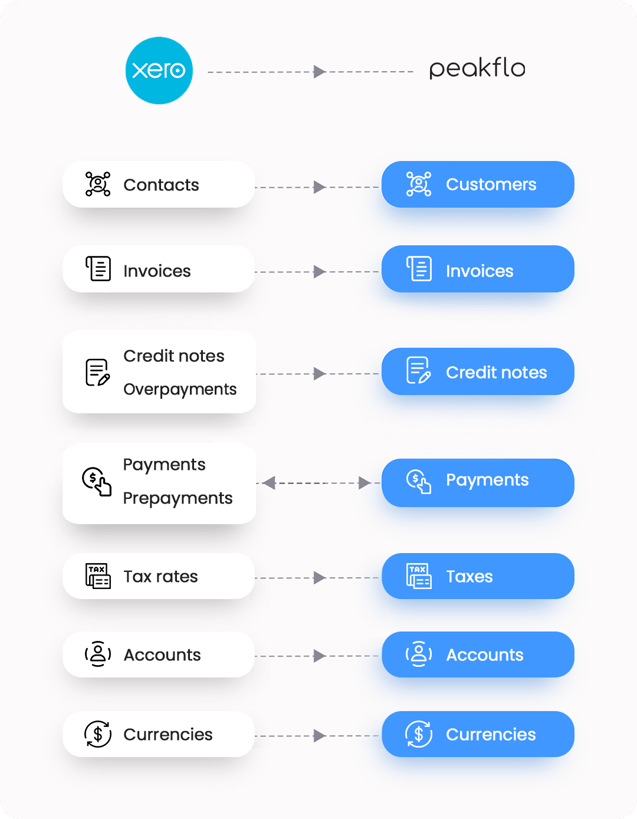 Setup
1. To sync with Xero first, go to Settings -> Integrations.
2. Click connect to Xero. Now, you will be redirected to Xero. Enter your login details to sign in.
3. After logging in, you need to authorize the integration between your Xero and Peakflo.
4. To authorize and complete the integration, click on 'Allow access'.
You will be redirected back to Peakflo. Now you can see that the sync with Xero is active. Do note that the sync can take anywhere from 30 minutes to a week to complete depending upon the volume of data that will be synchronized.
You can also check out this video on integrating Xero with Peakflo
FAQs
Your account will be connected to Xero until you click disconnect. If you ever find your account disconnected, you can reconnect any time in Settings → Integrations.
Reach out to us and we can help you to change the Xero organization.