Are you using Zoho accounting software to manage your business? By integrating with Peakflo you can pay and get paid seamlessly.
Plus, the setup is only a one-click process—ok it's closer to five clicks, but who's counting (we'll get into this later, or you can go to the section in this article on How to Connect Zoho to Peakflo)
Data flow diagram
Peakflo will securely import the following data from Zoho automatically:
Accounts
Customers
Invoices
Payments received → you can also import Payments from Peakflo to Zoho and vice versa
Credit Notes
Your Peakflo account syncs with Zoho automatically: every 5 minutes (for accounts, payments, and credit notes) and in real-time (for customers and invoices) before any payment reminder is sent to ensure you're always working with the most up-to-date information.
How to Connect Zoho to Peakflo?
Step 2: Click 'Integrations'
Under the settings menu option, you should see a tab called 'Integrations.' Click it.

Step 3: Click Connect to Zoho Books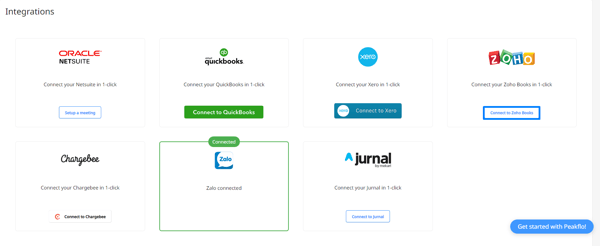 Step 4: Log into your Zoho account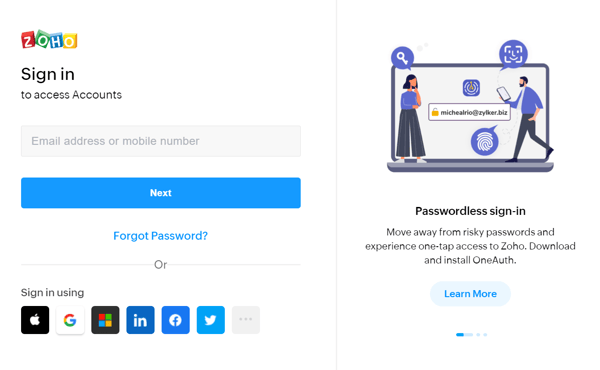 Step 5: Configure account mappings
Once you're signed in, Peakflo will direct you to the Zoho Books Status screen. Click on Configure Account Mappings.

To sync payments with your accounting software, you'll need to select the chart of accounts in the following settings: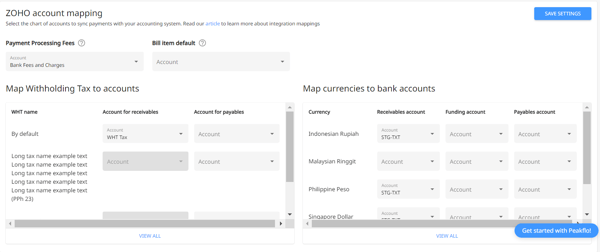 Payment processing fees: Select the chart of accounts to sync payment processing fee entries.
Bill item default: Select the chart of accounts to sync bill items that are not assigned to any accounts or GL codes in Peakflo
Map Withholding Tax to Accounts: Select the types of withholding taxes linked to the chart of accounts to automated receivables and payables reconciliation. Click on View All to see more options for the withholding tax.
Account for receivables: Select the chart of accounts to sync withholding tax receivables entries.
Account for payables: Select the chart of accounts to sync withholding tax payable entries.
Map currencies to bank account: Make sure that the currencies in your transactions are mapped to the right accounts. Click on View All to see more options for the currencies.
Receivables account: Select the bank account to sync customer collections.
Funding account: Select the bank account to fund the Peakflo wallet.
Payables bank account: Select the Peakflo wallet created in your accounting software.



* You can also set up different wallets with the same currency to make sure payments are automatically reconciled under the correct COA/GL code expenses.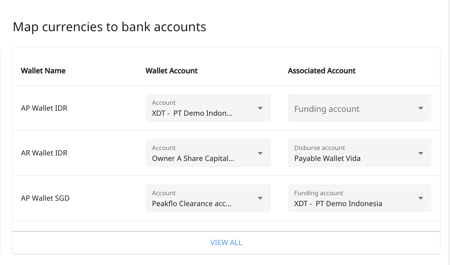 Once done, click Save Settings at the top right.
🛠️ Need any technical help with the account mapping? Reach out to us at support@peakflo.co!
FAQs
Your account will be connected to Zoho until you click disconnect. If you ever find your account disconnected, you can reconnect any time in Settings → Integrations.
How do I disconnect from Zoho?
Go to Settings → Integrations and click on Disconnect from Zoho books.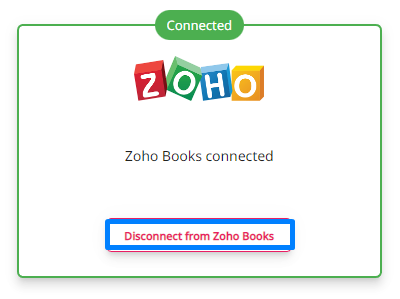 How are payments recorded on Zoho handled?
Payments applied to invoices on Zoho will be synced to Peakflo instantly. You must have auto-sync enabled for 2-way payment sync to work.
How to change my Zoho Organization in Peakflo?
Reach out to us and we can help you to change the Zoho organization.