Accounts Payable New Releases
The finance team can prevent overspending as they no longer have to track budget spending manually, plus budget owners can have full visibility with the real-time budget reports.

Receive immediate notification of the utilization of budgets as soon as purchase quotes or vendor invoices are assigned, even before payment. Track the remaining budget instantly in a spreadsheet instead of doing so manually.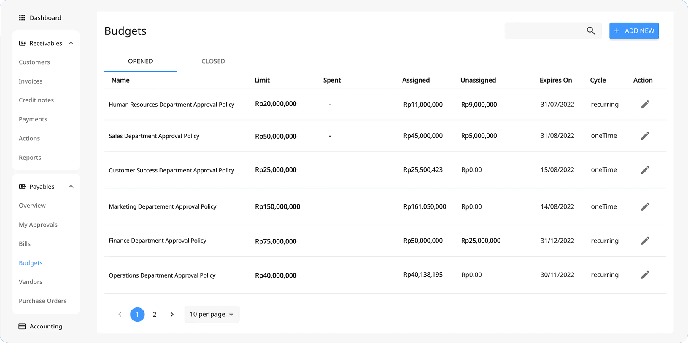 Finance, business, and procurement teams can design custom approval workflows based on their current business needs.

Default, editable workflow is available from the get-go to make sure no customers are left unassigned.

Any employee or business stakeholder can log in and easily submit a purchase request (purchase quote) easily in Peakflo.

Generate purchase quotes for multiple use cases, from procurements to freelance payments. Fill in all the necessary details, add the items you purchase, and apply taxes accordingly.

The procurement team doesn't have to send purchase orders manually any longer to the vendor.

Tick the box for "Automatically send to the vendor after full approval" when creating a purchase quote and let the software do the rest of the work for you.




The finance team can swiftly match the purchase order with the vendor bill and track open or closed purchase order balances for more accurate reporting.

The system will also flag an error if the bill amount does not match the PO balance.

The finance team does not need to worry about making duplicate payments anymore! Peakflo will inform you of any duplicate bills.

If your vendor sends multiple bills or to multiple departments, Peakflo will notify you whether the bill is duplicated or not.

Accounts Receivable New Features

The finance team can eliminate repetitive tasks and automatically send monthly statements of accounts to all your customers with an outstanding balance.

You can issue reminders and trigger actions based on specific dates every month using the AR workflow.