Watch the below videos to kickstart your accounts receivable journey in 5 simple steps to get paid faster and increase your net margin by up to 2%.
Step 1: Import data and start invoicing
Connect your accounting software or manually upload your customer data into Peakflo to begin your collection automation and invoicing journey.
Step 2: Invite team members
Invite your team members to Peakflo and start collaborating on high-value tasks and increase productivity by over 50%.
Step 3: Create and setup workflows
Workflows help streamline your entire accounts receivable process. With workflows, you can
Eliminate mundane tasks
Trigger personalized, multi-channel reminders to your customers using an escalation matrix
Keep all your stakeholders aligned
Step 4:Enable Payments
To collect invoice payments through Peakflo, click 'Enable Payments' and schedule a meeting. Our team will assist in completing this step.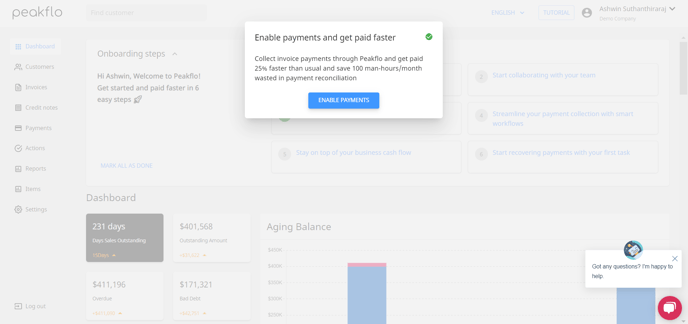 Step 5: View Reports
Access various reports with detailed financial metrics to stay up to date on your accounts receivable process, effectively track and collect your outstanding receivables.
Step 6: Create Task
Lastly, set up tasks to keep track of customer promises to pay or simply to internally define the next steps to be taken for each of your customers.